100k Business In One Year – Merch by Amazon Case Study Update 1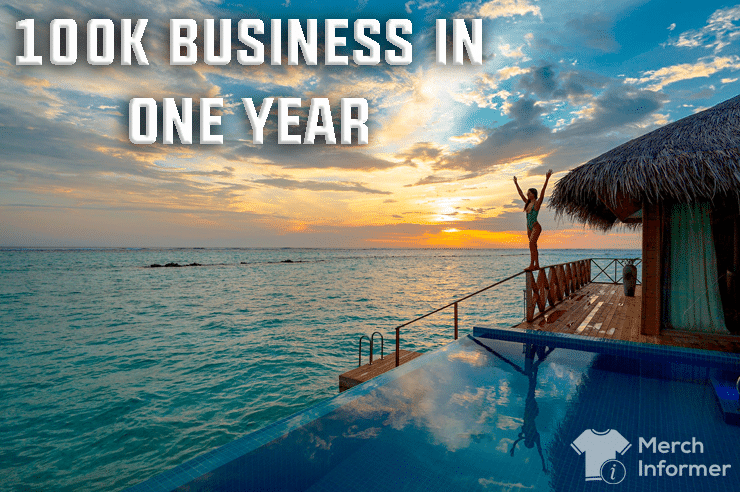 After being involved with Merch by Amazon from near the beginning, we have seen all sorts of changes to the platform, changes to the community, and have had the opportunity to watch everyone grow their businesses in all different directions. Not only has this been super rewarding but it has also given us a lot of insight on what it takes to be successful on the platform and how many ways there are to make money in the world of print on demand.
There are people who's sole focus it is to turn print on demand (POD) into a full time income so that they can live life on their own terms, people who want to pay their car or mortgage payment with their POD royalties, and then those who just want to make some beer money for the weekends.
No matter what your goal is for your business, no matter how big or how small, I want to first let you know that it IS possible to achieve! Anyone can do this, and that includes you (yes, you, the one who is reading this).
Over a year ago, we started a case study here on the Merch Informer blog going from ZERO to an average of $4,000 per month through just the Merch by Amazon platform in an attempt to pay off school debt.
100k School Debt to Financial Freedom – Merch by Amazon Update 1
This case study got so much attention, that many people actually started their print on demand journey from reading it!
Many people have reached out to us asking if we were going to do another case study since that one helped them so much in order to get the proper systems in place for their business. Since I look at Merch as a BUSINESS, I know that systems are important and anyone can replicate this success if they put in the time and effort. Instead of continuing on with the old case study, I decided to take another approach and bring back the case study series!
With the improvement that Merch has given us to the platform, along with new tools and methods, we believe that we can build on an abandoned Merch by Amazon account and bring it up to a six figure business in 12 months.
I want to encourage anyone out there that might just be starting, or struggling with their Merch business to follow along! This case study is going to be about putting in the work, showing you what works, and how you can leverage your time and resources to create a business that pays you ever month for years to come.
Without further ado…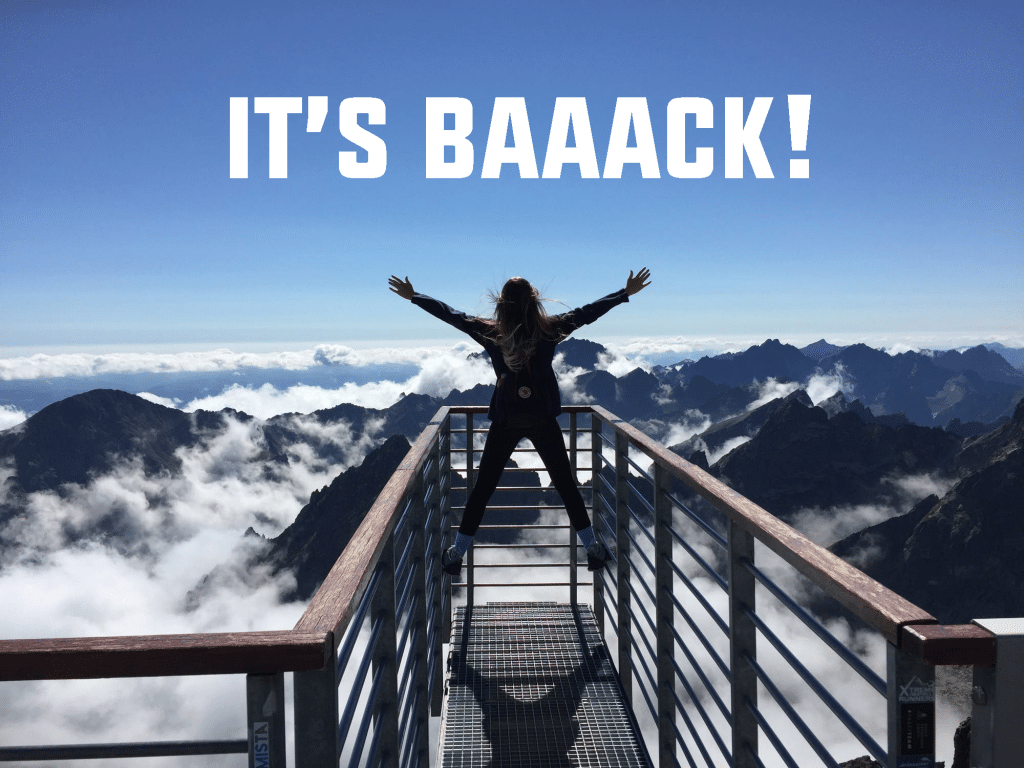 The Backstory
Note: This first case study is going to include a lot of math and data. This is what is important and why the system is repeatable, so don't skip it!
If you have been involved with Merch and print on demand for any amount of time, you know how addicting it can be.
This involves telling pretty much everyone you know what a great opportunity it is, and how you can make money by just uploading things to Amazon and getting paid for it! But how many people that you mention it to actually follow through?
…not many!
In fact, I only know a handful of people that I have told about Merch that actually signed up and uploaded anything at all.
It usually goes like this:
Tell them about Merch by Amazon
They ask 1001 Questions
Sign up for an account
Get Accepted!
Upload a design or two
MAYBE make a sale
Forget about it, or worse, become complacent
Sound familiar?
I have a good friend that I explained the platform to, they signed up and got accepted, and initially was really into it! They uploaded some designs they created themselves and started seeing a few sales trickle in (that is when you know it works and typically want to upload more and more). However, if you do not have the time to dedicate to something, real life typically takes over.
After months, more and more focus went into their day job, and Merch fell to the wayside.
However, that initial work that they put into their Merch by Amazon account is STILL paying them every month. Just check out their earnings graph since they started in 2017.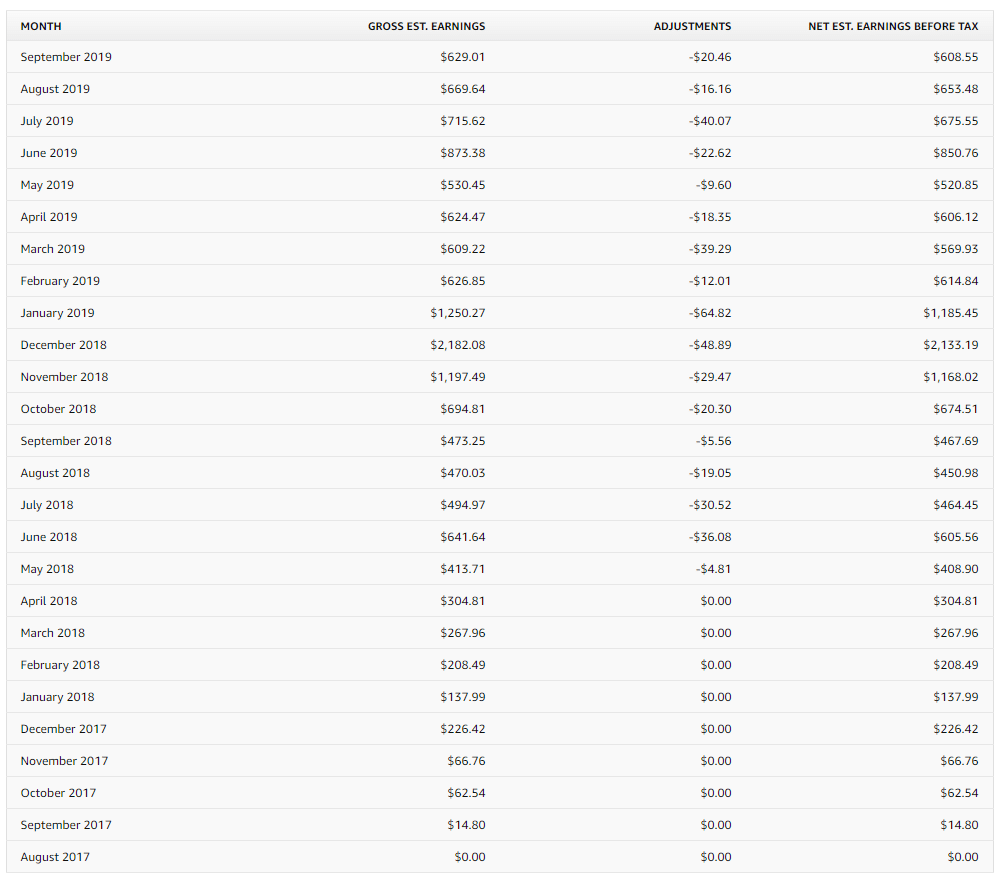 You can see that it started off slow, then started to ramp up. They started in August 2017, and the last design uploaded to the account was in March of 2018.
Since then, they have added the same design to some of the new products that have been released (we will go over this in a second), but really, over that time period, all of the unique designs were created, and just let to sit. There was no optimization, no more designs uploaded, and no more work done.
The Math Is Impressive
Just taking the previous month's earnings at $608.55, this is incredible for something that is paying every month but no work is currently being put in.
Imagine Merch like a stock that pays dividends EVERY MONTH. Most stocks do not not actually pay monthly dividends, but only once per quarter.
So here I am, talking to my friend about Merch again and blabbing about stocks I have been looking at. We get to talking about dividends, and that is when I decided to pull out a phone.
So lets say over the next 12 months, if he were to do nothing, he pulls in an average of 600 dollars a month. This equates to $7200 doing nothing.
Pretty good right?
When you sit back and think about how much money it would take to make THAT amount in the stock market, it gets even better.
Stock dividends are all over the place, but you can find plenty of good stocks that pay anywhere between 2-4% per year.
So, to make that same $7200 a year, you would need:
$180,000 yielding 4% per year
$240,000 yielding 3% per year
$360,000 yielding 2% per year
That is just what the account is currently making! That means if you wanted to make the same amount of yearly income from the stock market in dividend investments, you would have to have anywhere between 180,000-360,000 working for you to make the same amount of money that the Merch account is currently putting out!
The Goal Of This Case Study
If you want to be running an online business worth 6 figures (100k), then you need to be making around 3,000-3500 per month given around 30X multiple. This is usually how businesses are evaluated when they are sold.
The goal of this case study is not to make 100k after 12 months, but have the business be worth 6 figures at the end.
Currently, the 6 month average earnings per month are at $652.55.
At a 30X multiple, this means the business is currently worth $19,576.5
In order to reach the goal for this case study, we need to add about $80,423.5 worth of value to the business. We are going to do this by building up our print on demand revenue!
Another way to look at this is by going back to the stock market example.
If we manage to hit our goal, we need to do around $3333 per month averaged out. This equates to $40,000 per year.
To make that same $40,000 per year in the stock market you would need:
$1,000,000 yielding 4% per year
$1,333,333 yielding 3% per year
$2,000,000 yielding 2% per year
So, you either need to have 1 million or more dollars working for you OR you can be working on your Merch account. I know which one looks more appealing to me! I also know which one is a LOT easier to achieve (hint, its the Merch business!).
Merch Account Audit
Before we kick off this case study, we need to actually do an audit on the business as it stands right now.
SO MANY people that do print on demand completely miss this step, or just never go back and do it. BIG MISTAKE.
Doing an account audit will let you know where you currently stand so that you have something to go back to to measure your results.
If you are following along with this case study, this is the first step you should take!
So, what all should be included in an account audit? Here is my list:
Live Products
Sold Products (Sell Through Rate)
Reviews
Time Until First Sale
Amazon Choice
Sales by Brand
Unique Products Sold
How Many Niches?
Most of this information is pretty easy to get by using a few different tools.
First, I installed the Productor plugin which gives your dashboard a few different tabs that will pull a lot of these stats for you.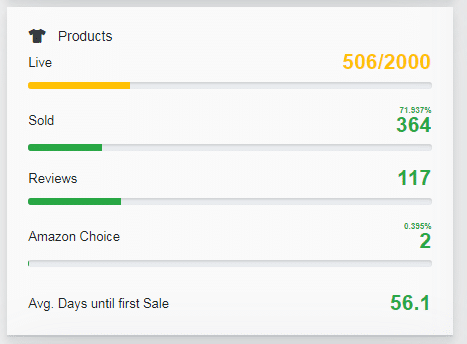 So far, we have the amount of products live (506), out of the total tier (2k tier).
We have the amount of products that have sold out of those live which is 364. This gives us a sell through rate of 71.937%.
There are a total of 117 reviews on the account and 2 of them are Amazon choice.
The account has an average of 56 days between uploading a design and making the first sale on that design.
It also pulls the brand list information so you know the breakdown by brand (this is also helpful if you group brands by niches).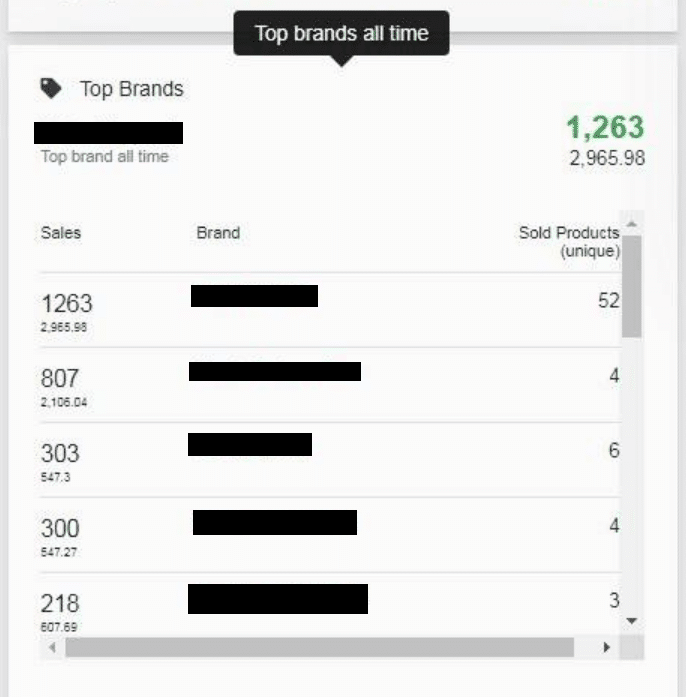 Next, I pulled the sales CSVs from Merch by Amazon and uploaded them to the Merch Analytics module inside of Merch Informer: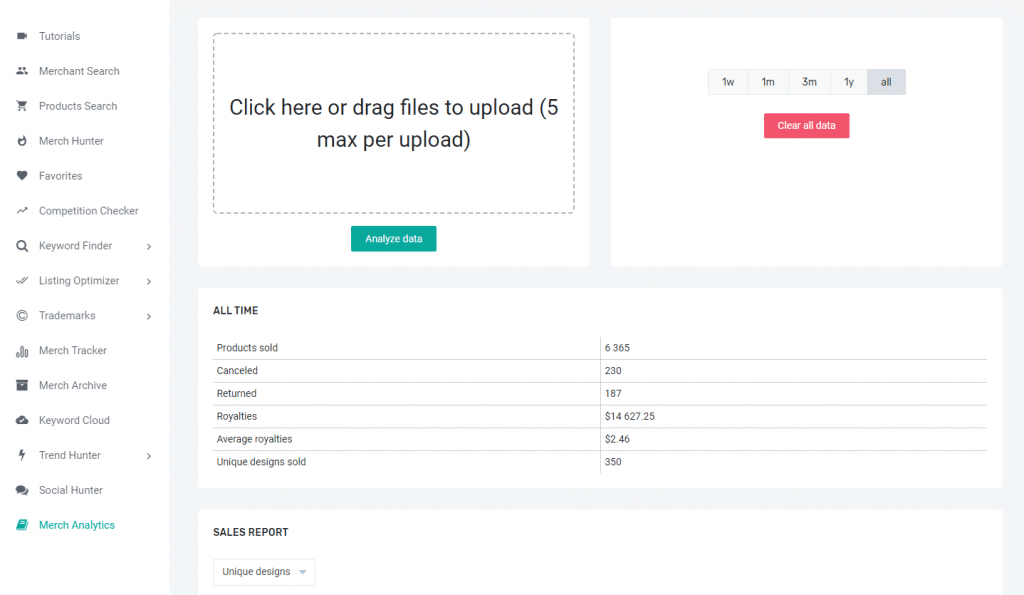 We see the number of unique designs sold is sitting at 350. This is very close to the sold designs in Productor which basically tells you that almost all of these unique designs are t-shirts but there are a few sales in there for popsockets and other products.
Note: 24 hours after writing this article, Productor has added this functionality in the left hand menu under the "productor manage" tab. Since most of the designs are from the old upload system, and the new one was tested a few times, these numbers can be slightly skewed.

Finally, we go through the entire account and basically do the hard work to determine exactly HOW MANY niches we are in.
If you ask almost everyone how many niches they are in, they have NO IDEA. This is information you should know.
If you went to a car dealership and asked them how many models they had on their lot do you think they could tell you? Of course they could, because they are running a business!
If you don't know how many niches you are actually in, then you are flying blind.
Going through everything, we determined that the account is currently in 73 different niches. We are defining a niche as an overarching category. So for example, "politics" would be considered a niche as would "cars". If you had a shirt about trucks, and a shirt about sports cars, these are both in the overarching niche of "cars" or "automobiles". We are not counting these twice.
So, here is what we are left with:
Live Products: 506
Sold Products (Sell Through Rate): 364 (71.937% sell through rate)
Reviews: 117
Time Until First Sale: 56.1 days
Amazon Choice: 2
Sales by Brand: See screenshot above
Unique Products Sold: 350
How Many Niches?: 73
What Does The Data Tell Us?
All of this data gives us a good starting point for the case study.
Right off the bat, we notice that we have 506 products live but only 350 unique designs have sold. This basically boils down to not adding all the unique designs to all the products so that should be a quick and easy win right there.
It also shows us that by pricing low to start (and he never raised his prices), his royalties per shirt is really low. This allowed him to gather 117 reviews from only 506 live products. This is REALLY REALLY good and just goes to show that pricing low at the start works. However, there is room for improvement here as the reviews are there, but the prices have not been hiked to increase the royalties. This can be an easy win, or we can decide to keep the price low and load the business up with more unique designs. Time will tell what we decide to do here.
The sell through rate is also REALLY good. This again points to low pricing being a driving factor in the sale decisions. I would almost guarantee that anyone pricing high and running the same account audit is not going to see the same STR (sell through rate). That being said, this gives us more opportunity to play around with the pricing and start milking more royalties from the same designs.
The niches are a bit high for such a small account. One of the things we will do going forward is actually break down the account by niche, and go deeper into the niches that are already working. That is another easy win since we know what is working there.
Goals For Next Month
I am going to be doing a lot of the research for this case study as well as providing direction. This means I will probably be doing some live videos, answering questions, and really leading the charge to get this business to a 6 figure valuation.
Why would I do this?
Because I share in the profits from the account. One of the easiest ways once you know how to build a Merch business to make extra money is actually partnering with new people and helping them as well. (NO I will not do this with you or the people who are bound to leave comments asking =)). The reason I bring this up is because the work load will be split since he has a day job and we want to be as transparent as possible during this case study.
So, here are a list of goals that we will hopefully hit for the next month's update:
Upload designs to ALL products and locales. The account has some very good selling designs but they are only uploaded to 1 or 2 products at best. Going through the account and getting every unique design uploaded to all products and all of the locales should easily fill up the slots and make the account eligible for a tier up.
Research existing niches that the account is already a part of. Formulate a plan to go deeper into those niches.
Discuss pricing. Q4 is upon us, but since this case study is a year long, we may be better off keeping the low pricing and trying to push as much volume during December as possible. This is all up in the air currently.
Wrapping It Up
This about wraps it up for the first series in the new case study. For everyone that is going to follow along and build their accounts alongside us, DO YOUR ACCOUNT AUDIT!
Once you have done your proper audit, drop a comment below to let us know where you currently stand. We are going to document everything month by month as we aim for a 6 figure business in one year. This is the perfect opportunity to start, or restart your side hustle and turn it into something that you can count on each and every month.
Will we make it in 12 months? Who knows!
80k+ in value added to a business in a year is not a small task, but in the end, I think everyone will be happy with the results.
To your success!