How To Find Trending Phrases On Merch by Amazon – New Merch Informer Module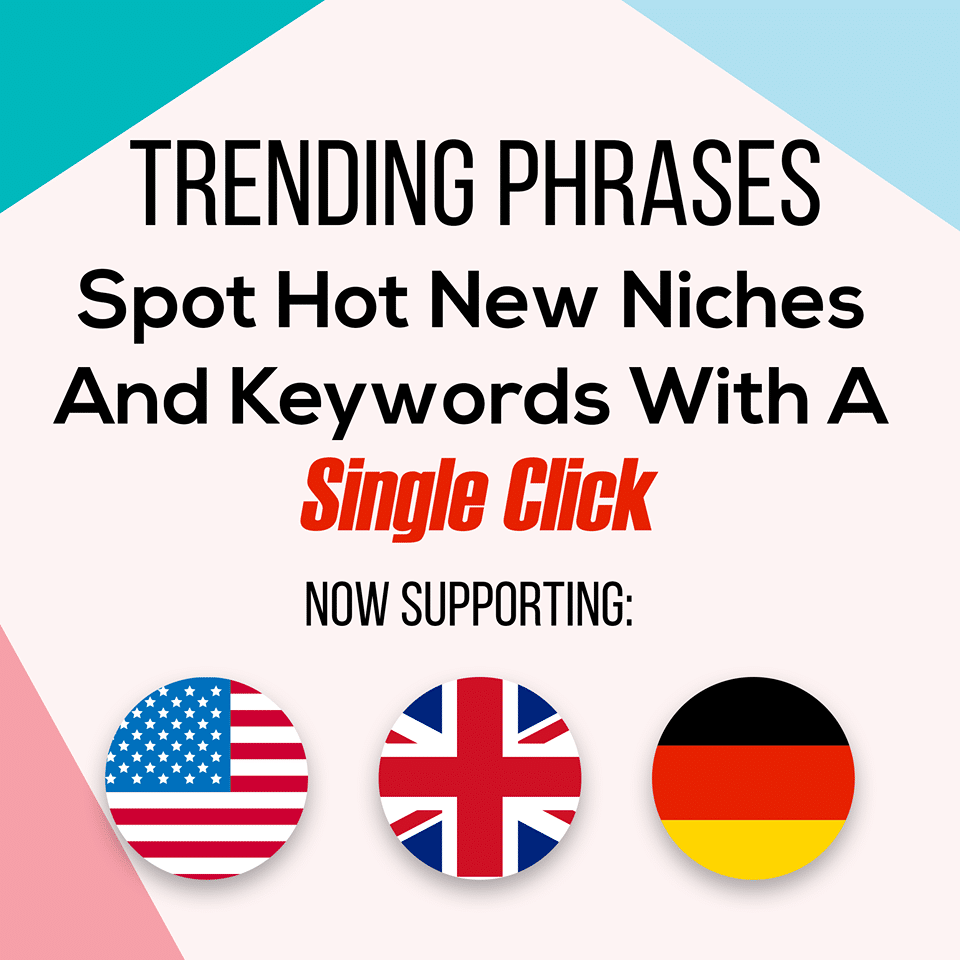 One of the hardest things to do when you are working on your Merch by Amazon business is find keywords and phrases that are getting in front of the right audience.
Getting in front of the customers that are spending money already is difficult, but finding phrases where you are NOT competing against 10,000 other sellers is even more difficult.
But….
What if it did not have to be?
What if there was a way to find phrases that are just starting to take off and make sales, that you knew of before anyone else? It would be a lot easier to make designs that start making sales quickly right?
Exactly! This is why we released a new module inside of Merch Informer to do EXACTLY this!
The new trending phrases module will show you exactly what keywords or phrases are just starting to trend, so you can do a deep dive into the niche and come up with your own unique sellers to easily get them in front of actual BUYERS on Amazon.
Let's jump into it!
Finding Trending Phrases on Amazon Merch
The first thing you will need for this method is a Merch Informer account. If you do not have one, go over to our pricing page and pick up a free 3 day trial: https://merchinformer.com/pricing/.
Once you are signed up, go ahead and sign in where you will be presented with the tutorials page.
Now, to get to the new module, you want to go down to the to the keyword cloud in the left hand menu:

The Trending Phrases module is a sub module of the Keyword cloud.
The way the keyword cloud works is that it pulls back the top ONE, TWO, and THREE word keywords/phrases of the BEST selling designs on Merch by Amazon on any given day.
This is super useful to see where the majority of the money is going and to discover new niches if you are brand new.
If you have been selling for a while though, this is not as helpful as it could be.
You see, all of those top shirts are VERY competitive. There are thousands if not tens of thousands of other sellers that are all in those niches with those keywords/phrases and it can be incredibly hard to pull down any sort of rank once you enter it.
The Trending Phrases module fixes this! Go ahead and click on that module and you will be presented with a page that looks like this: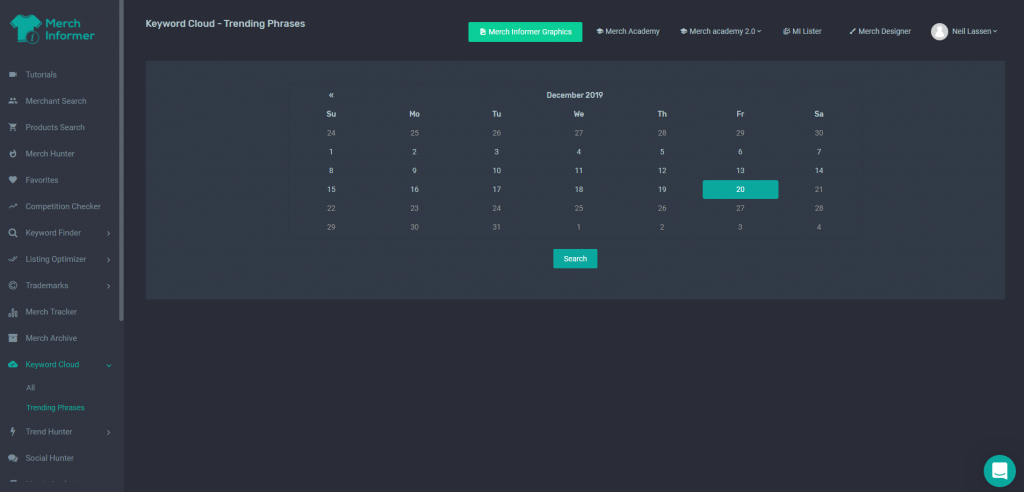 This calendar will allow you to select a date.
We launched this module on December 18th, 2019, so any date previous will not have the information. Going forward though, you will start to be able to find phrases that are JUST starting to take off.
So, lets keep today's date as an example. Simply select the date on the calendar, and click on the search button: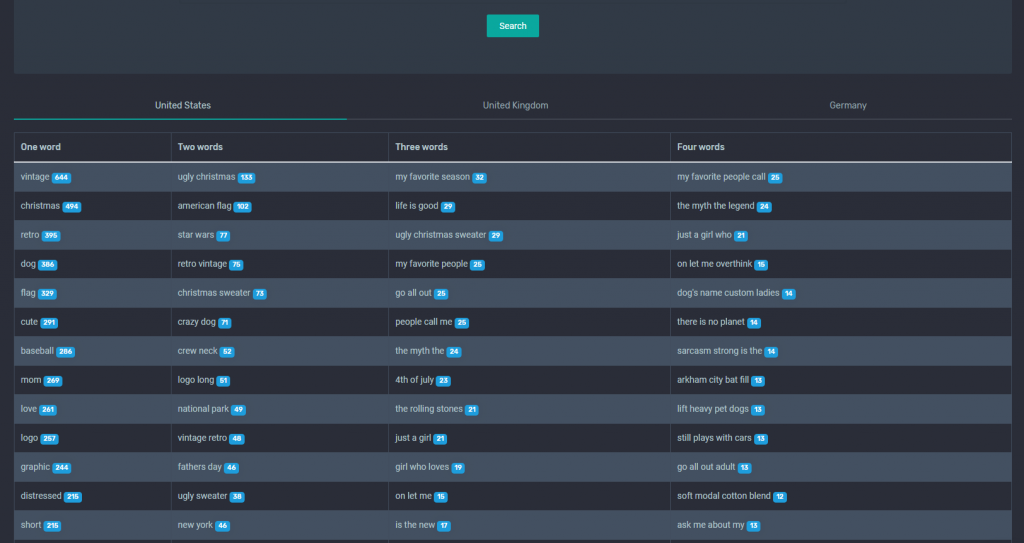 This shows you one, two, three and four word keywords and phrases that are just starting to trend.
Let's dive in and find a great niche just from this data on the fly.
Looking through the list, I was checking the four word trending phrases first. This is what popped out to me: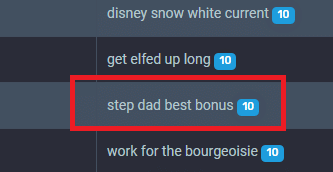 The numbers beside each keyword show the number of designs that have a sales rank that is moving lower (meaning they are making more sales). This looks like it might be an interesting sub niche in the step father niche, so lets explore it further!
First, I copied that keyword and moved it over to the product search. I searched for that phrase and made sure to check the "search in title only" box.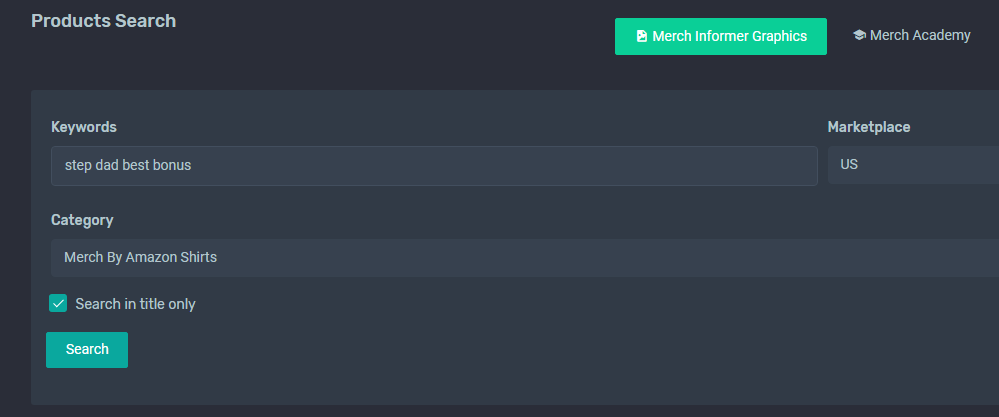 Click on search and wait for it to bring back the results.
Right away, I see that this niche could be profitable to move into. There are VERY few designs up!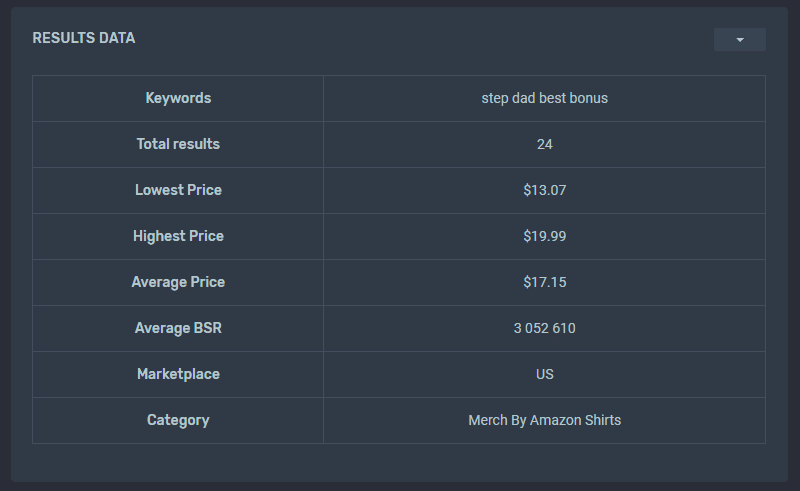 and then on the right hand side of the same screen, I already have a list of the most used keywords that I could use for my own unique design if I went into this niche: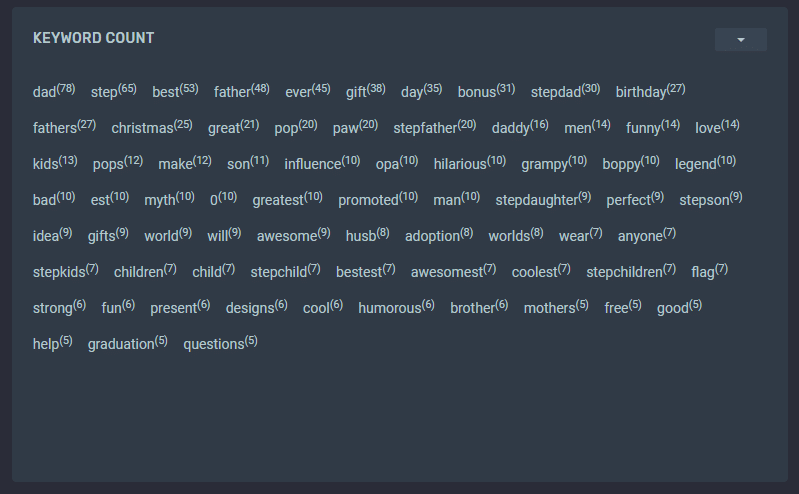 Right off the bat, this is looking like a good niche!
From there, scroll down to check out the results that are already in front of the right audience and selling!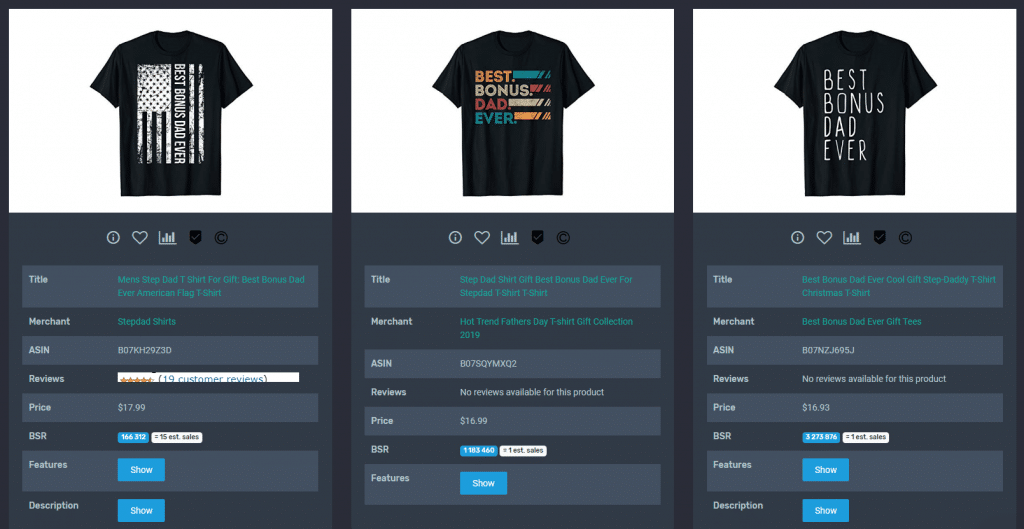 You notice that the best selling design for that keyword is a very low BSR and is doing well, but it has 19 reviews.
I am looking to see that at least THREE of the top selling designs are actually selling and in this case it looks like they are.
Further, the two other designs that are selling do not have any reviews yet and the designs are different.
Look through all the results that are displayed and ask yourself one question:
"Can I make a unique design in this niche?"
If the answer is yes, this is the perfect niche to go into!
There are not many results at all, the top results ARE selling and are trending in the right direction for sales (which is why it shows up in the trending phrases module), and there are reviews for at least 1 design which means people are liking the product.
If you can enter the niche with a unique design of your own, you should be able to get in front of the EXACT same audience and start seeing the royalties flow into your account.
Remember you may not make 100 sales a day in this niche, but it would be a good foundation to include an evergreen design (one that sells year round).
International Trending Phrases
The trending phrases module is helpful for the USA, but is ALSO works very very well in the other marketplaces that you can sell on.
To use this, simply pick a date like you would have before, and select either the United States, United Kingdom, or Germany.
As you can see in this screenshot, we have selected Germany.
The United Kingdom and German markets are still very untapped for Merch by Amazon so this could be an easy opportunity to go through and find even more keywords to design specifically for those platforms!
Wrapping It Up
This about finishes up the new trending phrases module that we just released. The way I have been using this the past few weeks while playing with it is an easy way to find hot niches without much competition. You can do that all by following the techniques above and just doing some research on what pops up.
After all, wouldn't you rather go into niches where you can make sales and not compete with 10,000 other sellers? I would!
Good luck out there!